G5® Massage/Percussion Therapy in San Diego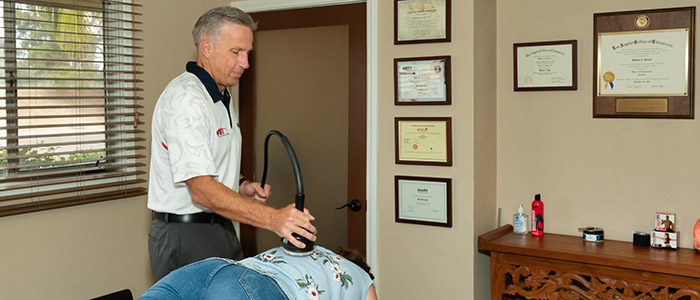 G5® Brand Massage/Percussion is designed to incorporate machine-assisted massage therapy into chiropractic care in San Diego, CA. Our G5® Massage Machine manipulates the soft tissue of the body to produce the desired effects on the nervous and muscular systems, as well as working to enhance local and general circulation of the blood and lymphatic fluids.
---
G5® Massage/Percussion Therapy Benefits in San Diego
Soft Tissue Injuries - Maintain mobility within the tissue structures of ligaments, tendons, and muscles to reduce atrophy and adherent scars.
Muscle Spasms - Relaxes muscles
Pressure Sores - Increases surface circulation which reduces arterial degeneration and takes away toxic tissue fluid.
Reduces Edema - Increases circulation by means of the generation of heat; assists in mobilizing edema fluids from an area; restores mobility.
Increased Circulation - Increases blood flow and brings nutrients and oxygen to localized areas.
Trigger Point Therapy - Relieves the tension build-up
Lymphatic Drainage - Provides detoxification of lymphatic systems by mobilizing lymphatic fluids and draining excess tissue fluids.
Continuous Passive Motion - Massage increases range-of-motion by reducing edema and relaxing muscle swelling that can occur during inactivity. Higher frequency vibration releases endorphins, which result in an analgesic effect to an area of treatment.
If you are interested in learning more, contact Synergy Sports Care today to schedule an appointment and begin the work toward long term relief.
OFFICE HOURS
Monday
9:00am - 6:00pm
---
Tuesday
9:00am - 6:00pm
---
Wednesday
9:00am - 6:00pm
---
Thursday
9:00am - 6:00pm
---
Friday
9:00am - 6:00pm
---
Saturday
Closed